How to Convert JPG to Word using LightPDF
LightPDF
LightPDF is a multipurpose PDF tool that allows you to edit and convert files of various formats. This tool has an OCR feature that can help you solve your problem by editing the PDF file and turning JPG into an editable Word file. It has two recognition modes: "Standard Mode" and "Advanced Mode." Furthermore, you can configure multiple languages to recognize characters in PDF files. Following that, we will demonstrate the two methods for using this tool to turn a JPG to Word online.
Method 1: Using the Online OCR Tool:
Go to the tool's official website using any web browser on your computer.
Then, click the "PDF Tools" menu and select the "OCR" function to proceed.

From here, click the "+" icon to upload the JPG from your pc.

After that, select the language you want to detect in the image. Then hit the "Docx" option to save it as a Word file.

Once done, hit the "Convert" button to start the process and hit the "Download" button to save the converted file.
Method 2: Convert JPGs to PDF at first and then Turn PDF to Word with LightPDF:
First, upload the JPG files and convert them to PDF using this tool.

Second, download the converted PDF file and save it.
Third, once it is converted as PDF, go to this tool's "PDF to Word" function to upload the file.

Fourth, click the "Convert" button to start the process with this JPEG to text converter.
Fifth, click the "Download" icon to save it on your PC.
And if you're looking for advanced PDF editing and converting programs, you can download its desktop version for Windows computers. The desktop version of LightPDF consists of useful and beneficial features that can help you to solve your problem. In addition, it also has an app version for Android and iOS smartphones.
Leading PDF Solutions to Merge PDF
In case you want to convert from JPG to Word, we can organize them in one file. So that you can save your time in uploading the pictures on different tools, check these excellent tools below to get started.
LightPDF
LightPDF is a fantastic tool that you can use to merge two or more PDFs. It has excellent file merging capabilities and can keep the original quality of the files after merging. With its newly updated interface, even first-time users can use this tool without experiencing any hassle. It also offers different functions, including Edit PDF, OCR, Split PDF, Sign PDF, Watermark PDF, Protect PDF, Unlock PDF, Compress PDF, Rotate PDF, Convert Speech to Text, Annotate PDF, and many more. You can also use this program to create digitized fillable forms in just a few simple steps.
Free Download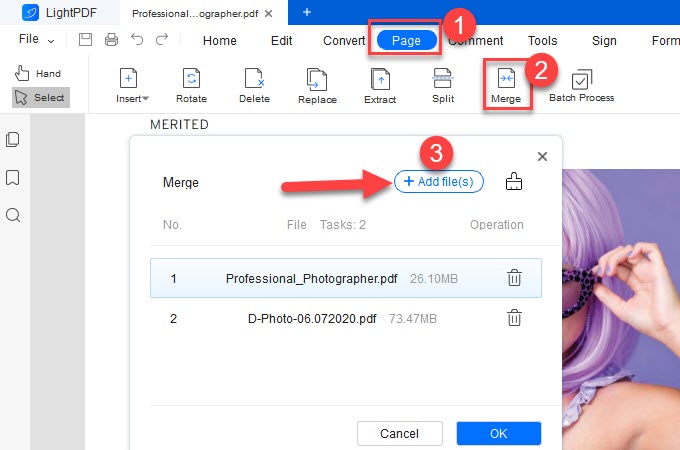 Sejda
After having an idea on how to convert JPG to Word online, you can check this tool names Sejda. This is a web-based program that focuses on providing you with a PDF merging feature. It works similarly to the other programs we have discussed above, and this program only provides the PDF merge function and settings before starting the merge process. With this app, you can specify some page settings, whether to include only specific page ranges, duplex printing, page sizes, etc.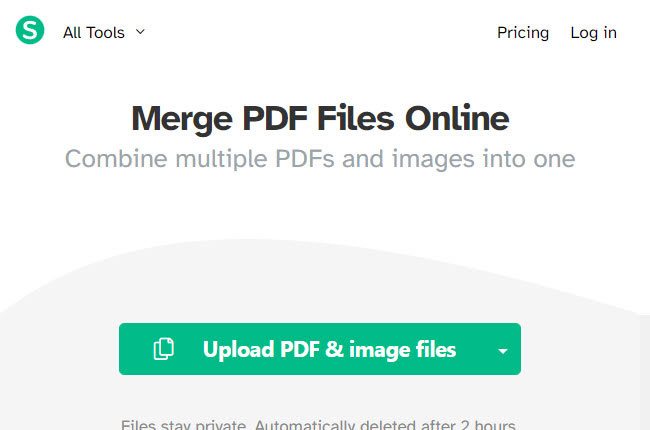 Smallpdf
Smallpdf is another online tool for combining multiple PDFs that work with Windows, Mac, and Linux computers. You can rest assured that all files uploaded with this tool are entirely secure on its server. You do not need to download any plug-ins to use the full functionality of this tool. To proceed, simply login to its official website with your Google or Facebook account. Meanwhile, you can upload PDF files directly from different cloud storage services, including Google Drive and Dropbox.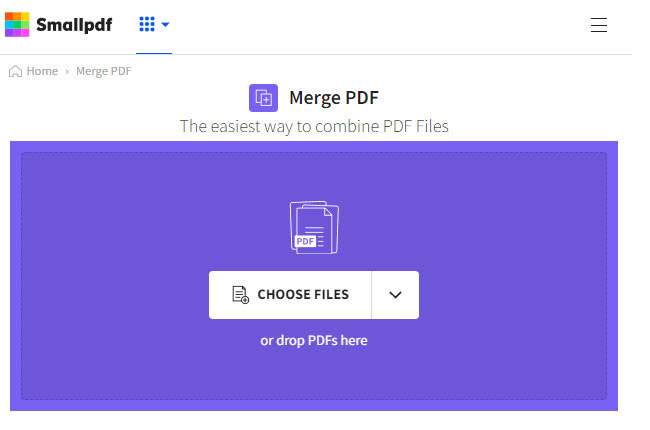 Conclusion
To sum it up, we've shown the two methods on how to turn the JPG to Word online using the LightPDF web-based program. Besides that, we also gathered the leading programs that you can rely on to combine multiple PDF files with ease. For more suggestions, feel free to write your comment below.