Top Pick Programs to Convert PDF to Docx
Name
Highlights
Ratings
Pricing
LightPDF

Easy to use
Muti-platforms supported
High accuracy without losing format
No limitations to file size or upload times

5/5
Free
Microsoft 365

Can complete conversion and modify Word texts inside one app

5/5
$69.99/year
iLovePDF

Easy, smooth, and fast conversion
Maintains original layout
Web and mobile apps are good

5/5
$48/year
PDFCandy

46+ online tools for PDF converting and editing

4/5
$48/year
Zamzar

Supports many types of format conversion

4/5
$18/month
SmallPDF

Fast processing speed and high-quality conversion
Powerful online functions

4/5
$108/year
Convertio
4/5
$71.88/year
LightPDF
LightPDF is one of the best PDF to Word converters on the market. Designed for streamlining PDF processing workflow, it adopts a minimalist design and removes some complicated and unnecessary operations which makes the process more intuitive and users can complete converting PDF to Docx in a few clicks. And it provides free web services to help more people with PDF conversion needs work PDF in an easy way.
Watch a quick video to learn how it works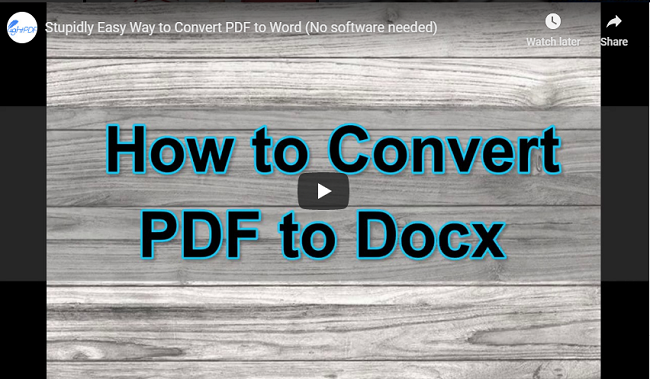 Detailed Steps on How to Convert PDF to Docx Online with LightPDF
Visit the PDF to Word page on LightPDF's official website. Upload the PDF file that you wish to convert by hitting "Choose file" or the "+" icon.

Once the file is uploaded, click the "Convert" button, and in just a few seconds the file will be processed.
Finally, you can now save the converted file on your device by clicking the Download button.
One of the best things about LightPDF is that it supports recognizing the texts in PDF scans and allows you to convert scanned PDFs to editable Word files. Moreover, this free online PDF toolkit includes over 20 PDF-related features, such as PDF to Excel, images to PDF, compress and merge PDF, edit PDF, etc. Also, it supports batch conversion for productivity.
Tips:
Now you can access the LightPDF app on Windows, Android, and iOS devices, which provides other advanced features.
Desktop Version: Supports removing PDF watermarks, adding digital signatures, inserting and deleting PDF pages, adding headers & footers, creating PDF forms, and more. And it allows you to convert PDF to Office offline.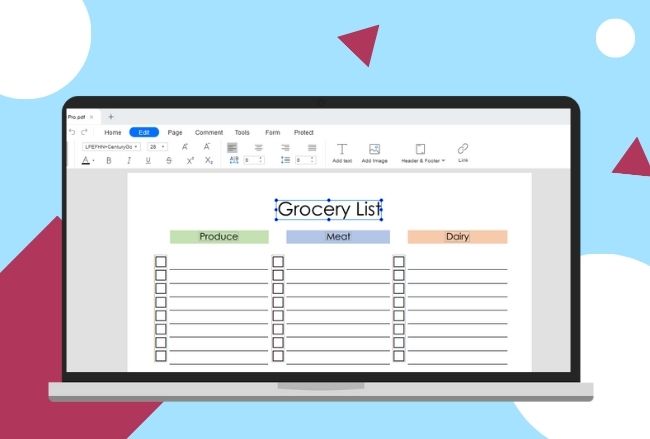 Mobile Apps: Supports scanning paperwork to PDFs and extracting texts from paperwork.
Batch Convert PDF to Docx Without Losing Format
Sometimes, you may want to convert multiple PDFs into Word documents for content analysis. LightPDF provides batch conversion solutions on all platforms to help people boost productivity and save time.
Microsoft 365
Microsoft 365 is well-known as a document processing tool with Word, Excel, PowerPoint, Outlook, and more solutions. If you are familiar with Microsoft 365, you can use it to convert PDF to Docx and vice versa, after that, you can directly use it to modify the content.
However, Microsoft 365 is a subscription-based suite charging $69.99 a year, which may be a large expense for price-sensitive users or non-Microsoft 365 users.
iLovePDF
If you often handle PDF documents, you may hear of iLovePDF. This free online PDF converter utilizes the most successful PDF to Word technology – Solid Documents, which can turn PDF into Docx without losing format. It also offers a wide range of features to merge, split, compress, protect, and unlock PDFs. However, it has some limitations – you can only upload a file up to 15 MB for every conversion and you need to upgrade to OCR PDF.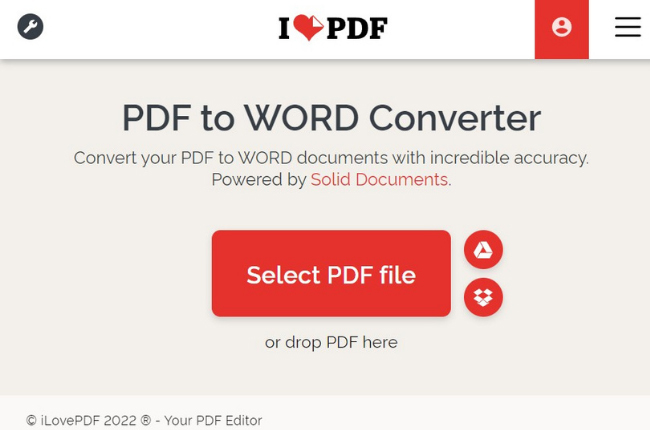 PDFCandy
PDFCandy is an amazing tool that contains over 40 useful PDF converting and editing features.It can quickly and easily convert PDF to Docx and preserves all the formatting of the original PDF. During the test, we found a great feature of PDFCandy – it provides download list, which means that we can convert the files first, and the converted files will be stored in the upper right corner of the website and saved for 2 hours, and then we can view the conversion history and download all the files at any time.
But there is one thing we don't like about the website, and that is the conversion needs to be queued. Although it only takes 10-20 seconds, it still affects the efficiency. PDFCandy also has limitations to the file size, and it doesn't allow you to upload more than one file to process conversion. It has a web-only as well as a web+desktop subscription plan, you can choose according to your need.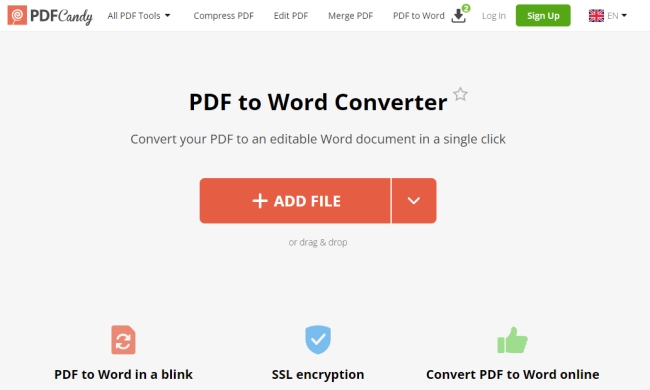 Zamzar
One of the most prominent converting PDF to Docxplatforms in cyberspace is Zamzar. It enables you to change the format of your document as soon as possible. With it, you can also convert videos, ebooks, and audio as it is supported with more than 1100 formats. The only restriction of this program is that you can only process up to 50 MB file size per day.
As we tested, we found it a little bit annoying that we need to select the desired format among many options, which may be time-wasting.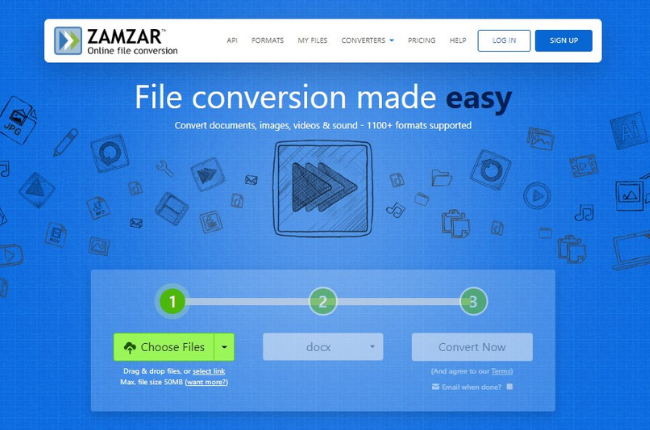 Smallpdf
Smallpdf helps you to convert PDF to Docx online for free instantly and accurately. Like LightPDF and iLovePDF, it allows you to easily convert, edit, rotate, unlock, and sign PDFs. And it provides an OCR option in PDF to Word conversion, however, you need to purchase and get this feature.
Smallpdf always works great, but in recent versions, it made a lot of restrictions on the use of functions. For example, you can only upload 1 file a day, you cannot batch convert files for free, and you can only convert a file within 15MB.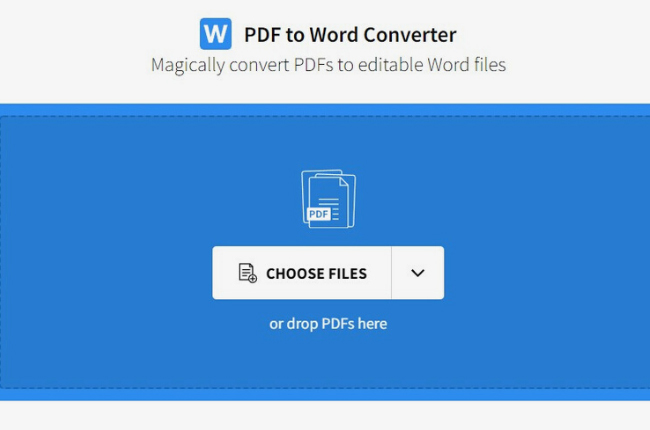 Tips:
Among all the tools we tested, only LightPDF allows users to convert PDF to Docx online for free without the time of upload, and file size.
Convertio
Getting into our list of recommended solutions to immediately turn files into any format is Convertio. It has an easy-to-understand interface that is supported by more than 300 different formats. Moreover, you can process files on this platform with a maximum of 100 MB file size and all converted files will be stored in Cloud.
But it has the same disadvantages as Zamzar you need to spend a lot of time locating the output format, and it is not very user-friendly for first-time users.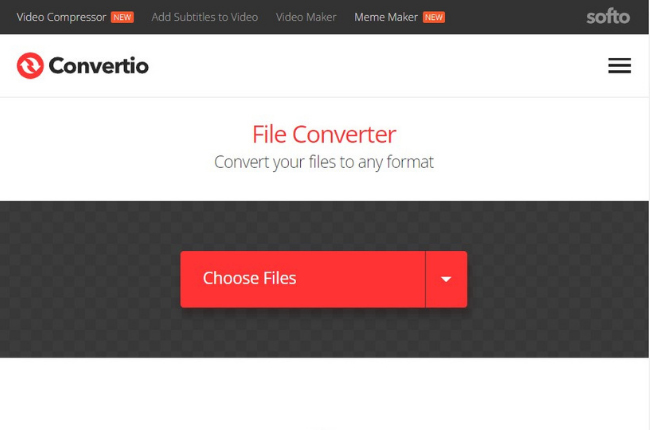 The Programs Not Recommended for Converting PDF to Docx
Google Docs
We realized many reviews recommend Google Docs as a feasible way to turn PDF into Word, but as we tested the output file layout will get messed up. Even worse, if your PDF file contains many images, then Google Docs will not display them in Google Docs.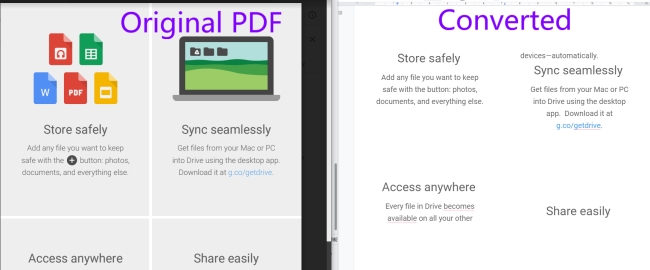 However, there is another way you can use work with PDF in Google Docs – use the Google WorkSpace extension. You can open a document in Google Docs > click "Open with" > "Connect more apps" > search a PDF to Word extension and convert PDF to Docx.
PDF2Docx
This PDF to Word converter may easily encounter errors and fail to upload or convert, and never tells you the reason, which is really frustrating.
Key Features of a Good PDF to Docx Converter
Compatibility. Working from home and processing documents on the go is now commonplace, so make sure the converter can help you convert PDFs on all your devices.
High Quality. It is important because you don't want to spend extra time modifying the layout and content of PDF documents.
Security. You need to ensure the service provider won't store your documents or use them for other purposes.
User-Friendliness. A user-friendly PDF converter will save you time figuring out how it works, and boost your productivity.
Conclusion
It is very easy to convert PDF to Docx, but different programs may have their pros and cons, you should be clear about the aspect that matters most to you. Overall, LightPDF online PDF to Word converter is a good choice for most users, because it is 100% free, works quickly, and can convert documents without losing format.